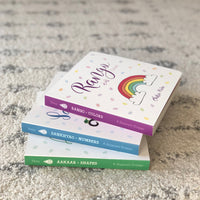 Making Gujarati & Hindi Approachable
It can feel like a daunting task to teach your little ones a second language in addition to juggling all of the things that come with raising a young family. At TaariMaa, the goal is to introduce the building blocks of Gujarati & Hindi into your homes in the form of our signature books, toys, posters, and more - so you can effortlessly add language to your normal daily routines. We strive to make language fun and approachable and we believe that "something is something" and one new word learned is one word to be celebrated. So come, join us, and bharaatni bhaasha maa bolo!
shop now
What you've been saying...
Thank you for the great quality toys and books!! We received our order a few weeks ago, and our son (17 months) has been loving the balance boat and the books! He plays with them everyday. As parents, we love that it is such an easy introduction to language with everyday play! Thank you for coming up with these awesome concepts and making them a reality for all of us to enjoy! Cant wait to try out more of your stuff as Krish grows older!

Sneh
I received your books and I love them! For so many reasons:

1. I am learning as my kid is

2. My husband can pronounce the words to teach my daughter Gujarati and he can learn as well

3. My dad who does not speak English well can also read the book to her

Vaishalee
My husband stands with Alia every night in front of our fridge and talks to her and changes the date on our [weekdays] poster. I am so glad I did the blending and got both languages! At first he was totally like, "We're gonna be those parents? I barely speak Gujarati myself, what am I gonna teach her?" and I said we'd all learn together. And he's doing it on his own!

Ruchi
Colors, Shapes, and Numbers

Introduce the building blocks of the Gujarati language to your children with beautiful board books
Unique Hand Illustrations

Each page is hand drawn with love, and designed to engage your little ones with simple yet eye catching illustrations as they learn Gujarati & Hindi
Phonetic Guidance in English

When creating these books, we kept in mind that many first generation parents (like us!) can't read Gujarati letters
Colors, Shapes, and Numbers
Introduce the building blocks of the Gujarati language to your children with beautiful board books
Shop
Unique Hand Illustrations
Each page is hand drawn with love, and designed to engage your little ones with simple yet eye catching illustrations as they learn Gujarati & Hindi
Shop
Phonetic Guidance in English
When creating these books, we kept in mind that many first generation parents (like us!) can't read Gujarati letters
Shop